One of the unique phenomena that have been preserved in Uzbekistan since ancient times is the national toy – funny ceramic figures made in the best traditions of the Uzbek masters, carrying a large charge of good energy. In each locality, it contains distinctive unique features.
Uzbek national toys are traditionally made of clay. As a rule, these were whistle toys (khushtak) of fabulously zoomorphic content, in the form of domestic animals of lamb, horses, dogs, elephants, birds, as well as fantastic animals – dragons and animals unknown to nature, saddled by the rider.
Having seen ceramic toys at least once – it is impossible to forget them. And whether it is traditional raspberry-yellow whistles or bright ethnographic sculptures of the Samarkand dynasty of masters full of lyrical humor – in each of them there is a love of the Uzbek people for bright cheerful decoration.
The real brand of Uzbekistan has become ceramic "babaychiki" – cute, brightly-painted figures of funny little men in Uzbek national costumes. Each figure is a work of art and is not similar to each other. An old aksakal with a bright yellow Uzbek cake in his hands, and another mustachioed man carries a watermelon and a melon from the bazaar, next to a teahouse with a teapot or a barbecue stick or plate with pilaf, or an old man on a cheerful donkey. But all of them are united by cheerful and kind faces. "Babaychiki" are made in different sizes – from a matchbox, similar to Japanese netsuke, to huge, in the growth of a person. Moreover, in both cases, all the features of the costume and items are spelled out in detail.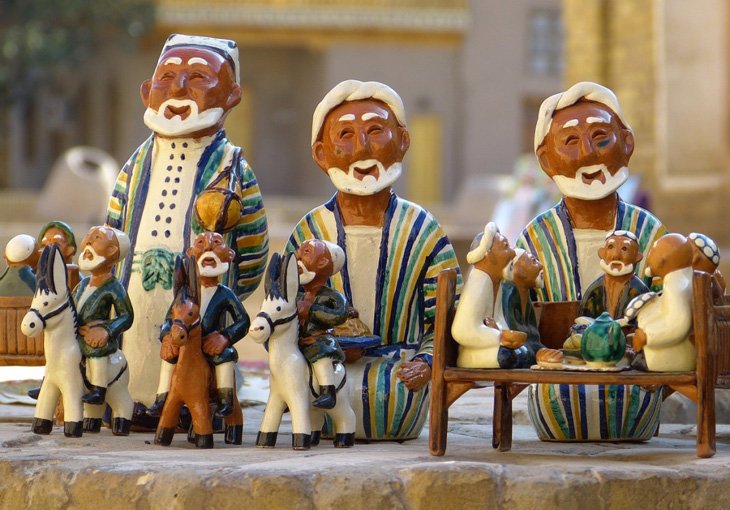 The Uzbek clay toy is a small, inexpensive, but an excellent souvenir and a gift in memory of Uzbekistan.
Clay is a natural material from which from ancient times people built houses for themselves, made dishes and, of course, children's toys and whistles. Nowadays, toys are made for children from more modern materials, and clay has become the basis of the artistic creations of modern masters of Uzbekistan and Central Asia as a whole.
The manufacture of clay figures was characteristic of the Bukhara – Samarkand school of ceramics. The toy has very ancient historical and social roots.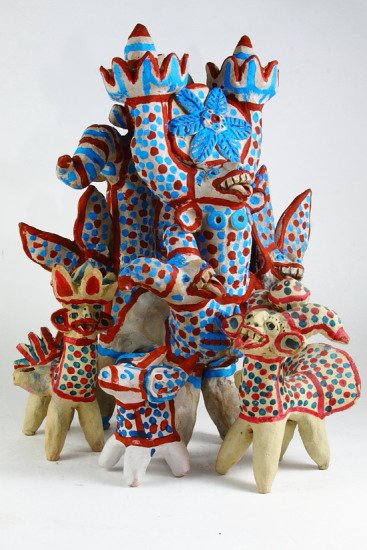 Fantastic animals, birds, horses, rams, which made up the main stock of clay toy images, had various features. In some, the trunk ends with a whistle, in others it is located on the side, which makes it possible to pay attention to the shape of the bird's tail. In toys of this design, the characteristic elements are heads. In the modeling of bird heads, this power is manifested by observation, knowledge by the masters of the characteristic features of the birds depicted.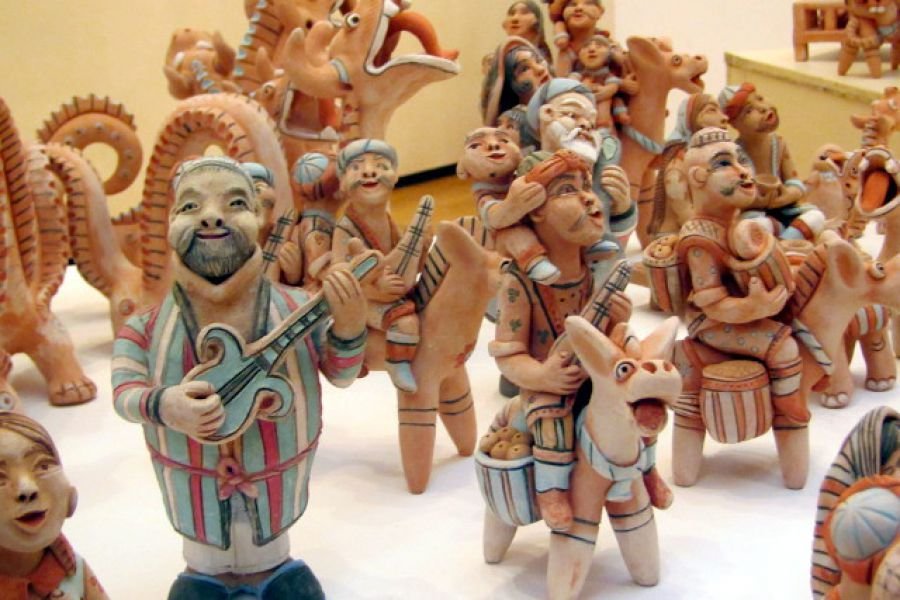 Is a doll in Uzbekistan just a children's toy or something more?
Dolls in Uzbekistan are more than a simple toy for children. Since ancient times, theatrical performances of vagabond puppeteers – maskaraboses were one of the brightest and favorite entertainments of rural and urban residents. The skill of making dolls was almost lost, but in the last 20 years, a revival of this unusual craft has begun.
Dolls in Uzbekistan were made of wood, ceramics, straw and reeds. Different types of dolls have survived to our time: glove dolls, puppet dolls. They are made of painted papier-mâché, wood, clay. Clothes for dolls are sewn from fabrics made in the national style. The craftsmen have their own traditional technology of tailoring, embroidery.
Of particular interest is a clay toy of a special shape. The peculiarity of these toys is that not only the four-legged construction with a whistle acts as a stable element, repeated in all toys, but also the image of the animal, which in its appearance is closest to the camel. As mobile elements of the form, giving variety to toys and providing an opportunity for the master to improvise, there are parts located on the head of animals.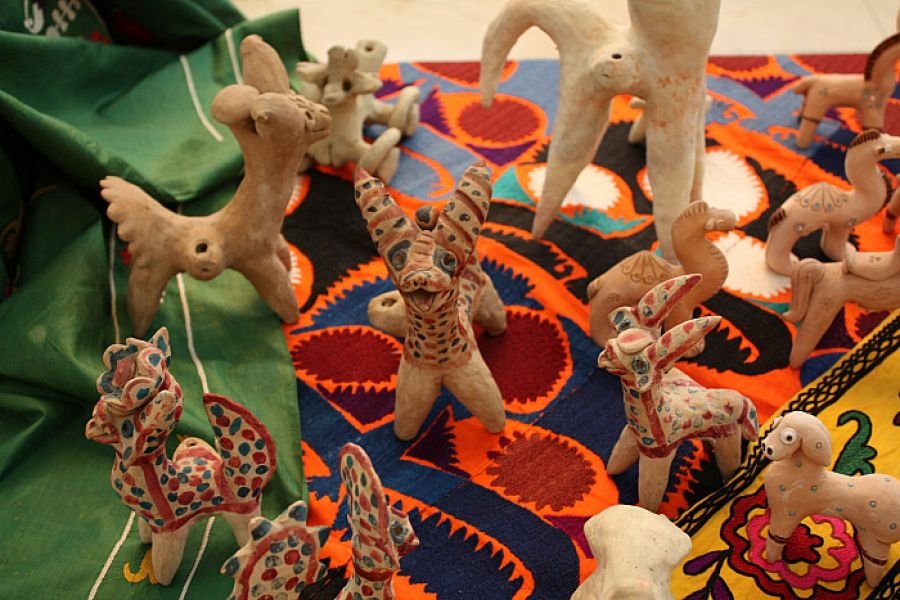 Each doll, from a simple rag to a porcelain one, can be called, without exaggeration, a work of art. Puppet masters pay special attention to the smallest details of doll costumes, using natural Uzbek fabrics, velvet, leather, and even astrakhan fur for this.
Samarkand masters of the twentieth century also turn to a toy in their work, but their plot compositions are most likely a miniature sculpture. People engaged in everyday affairs, warrior heroes, dragons — all the works of Samarkand masters are marked by the purity of form and the integrity of the compositions.
Among the almost lost and reborn types of crafts is also the manufacture of dolls. In the recent past, theatrical performances of stray puppeteers – maskaraboz were one of the brightest and most beloved entertainments of rural and urban residents. As early as the beginning of the 20th century, roving puppeteers – maskaraboses, who gave great pleasure to children and adults with their performances, performed at colorful bazaars and squares of the country. And since 1939, the Republican Puppet Theater began operating in Uzbekistan, the repertoire of which is staged by foreign and national Uzbek dramaturgy.
The national doll is a bridge to the knowledge and understanding of the history, traditions and originality of Uzbek culture. Everyone who looks at the doll in the hands of the puppet master sees how it literally comes to life in the hands of the master. Masters who work with dolls try to convey their understanding of the world.
Bukhara puppet masters study the history of the Bukhara costume; use the traditional technology of tailoring, embroidery, and Bukhara karakul. The artist scrupulously adheres to the symbolism of various details of the costume, characteristic of its owner. Living in the hands of masters, dolls form a colorful round dance of national images.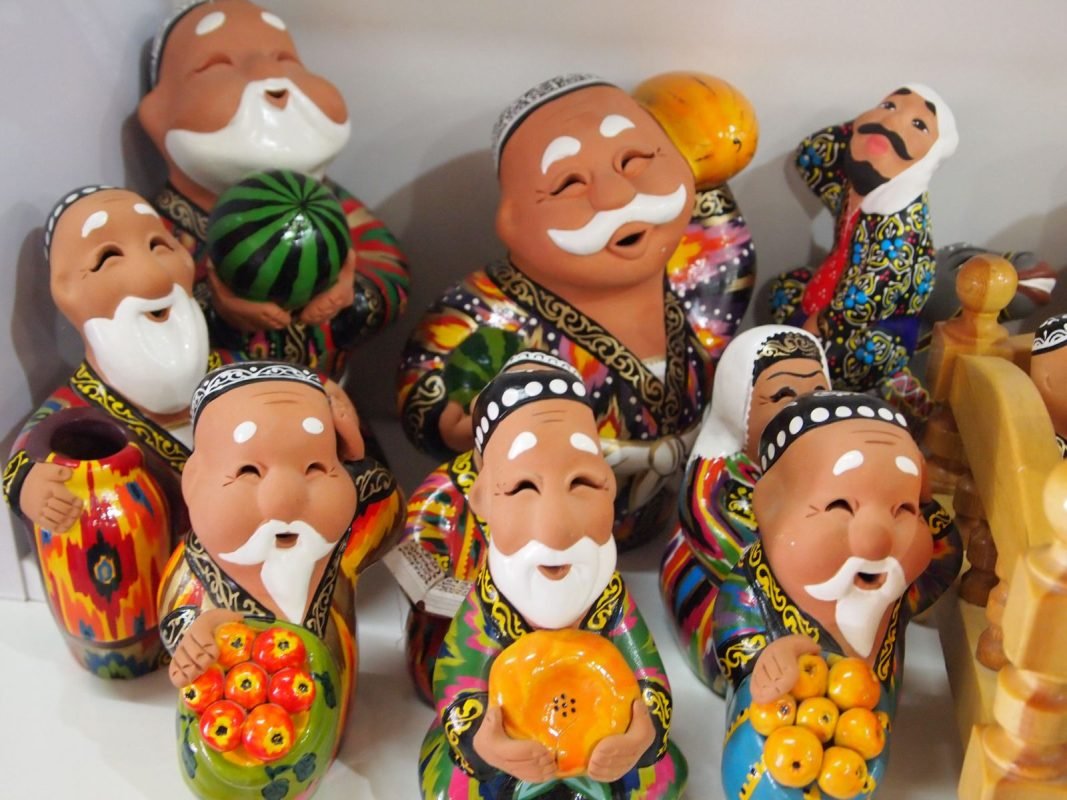 There are also such types of dolls that invariably amaze with the quality of performance. Such dolls have chiseled amazingly beautiful, warm faces and hands. In the body of each doll, a whole musculoskeletal system that allows young people to change the inclination of the head and body, move their arms and legs, take very expressive, humanly emotional poses. Each such doll represents costumes of various regions and nationalities of Uzbekistan and neighboring countries. Porcelain dolls can be called masterpieces of puppet art.
In Uzbekistan, tourists can not only buy original dolls – souvenirs right in the puppeteers' workshops, but also see and even participate in their manufacture.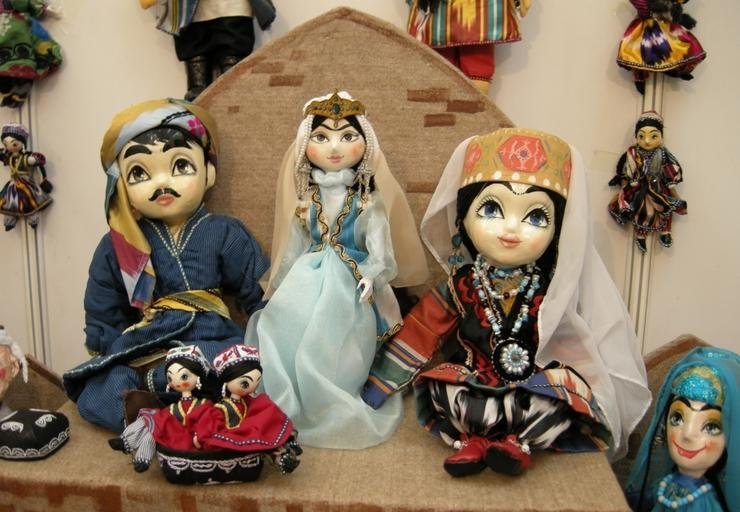 Today, dolls dressed in national costumes have become a traditional Uzbek souvenir that can be used not only as a toy, but also as an interesting, bright interior detail. They represent various folk types or heroes of literary works.