What comes to your mind when you hear about the Arabian East? Probably, endless deserts with picturesque oases, domes of Muslim mosques, fairy tales "1000 and 1 nights" and, of course, luxurious carpets.
Despite the fact that this accessory has long been known in many cultures, it was the East that made the most significant contribution to the distribution of carpets around the world. Today we will talk about kilims – traditional oriental carpets, interesting in a number of properties and impressed.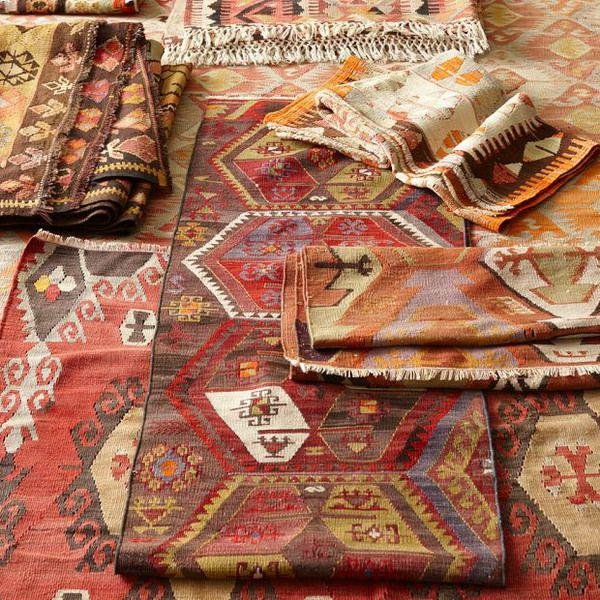 In the wake of the fashion for ethnicity, they are experiencing a surge in popularity, European and American decorators successfully use kilims in traditional, colonial and modern interiors. It is the professionals who form the western demand for ethnic handmade carpets.
However, if you are a connoisseur of man-made things with a touch of ethnic style, you probably already paid attention to kilim. Perhaps, while peering at them. But, perhaps, you have already fallen in love with such a marvelous carpet and are considering how best to "fit" it into your interior. And that means: our kilim selection guide will be especially helpful to you. If the chosen kilim harmoniously fits into the atmosphere of the room, it will completely cope with the solo part and become the main decoration of the interior.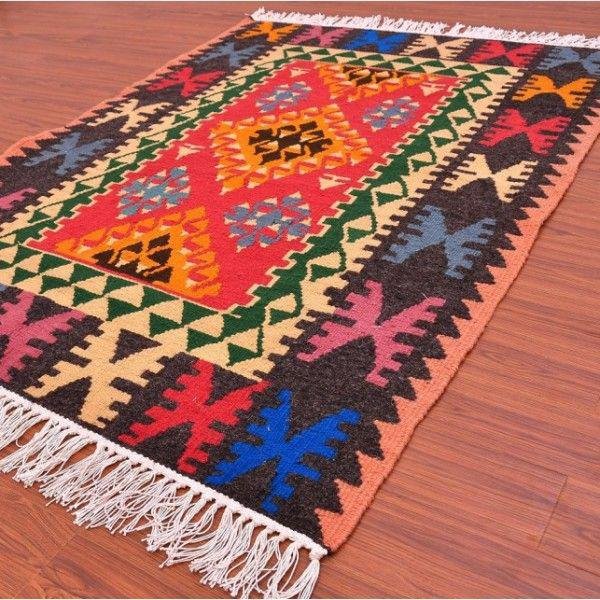 What is interesting in kilim? Firstly, a characteristic stylistic appearance (geometric ornament), and secondly, the absence of pile. Kilims are not as massive as the usual oriental carpets, and their price is much lower than the pile counterparts. It is these qualities that brought this kind of carpet attention from decorators and fans of ethnic motifs.
Kilim used to be brought from countries in the Middle East, now they can be bought everywhere, including online shops. A particularly wide variety of these carpets is presented on our website in the kilim carpets section.
In addition, we will talk in detail about different types of national kilim carpets, as well as touch upon the subject of kilim texture for other interior items, in addition to carpets.
What is kilim? This is a handmade woven carpet popular with nomads. Kilim have long been used by them to cover the floor, tents, household utensils, wrapping goods, as blankets for animals and, of course, to decorate the house.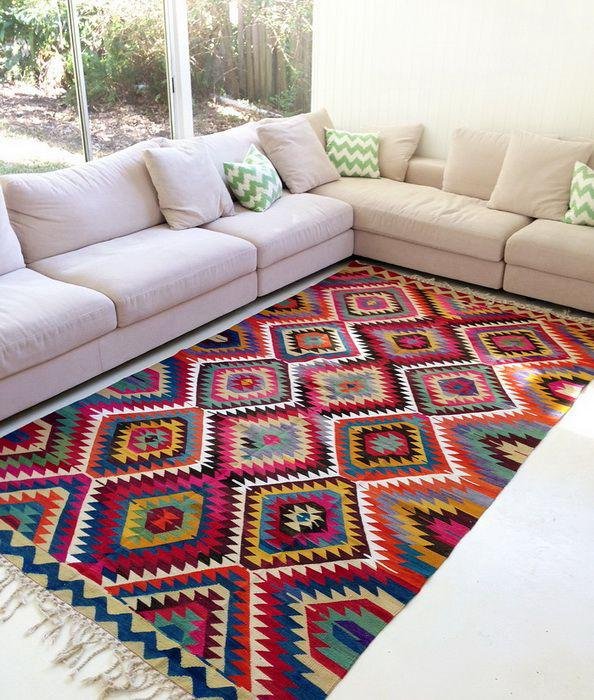 Such widespread use does not at all indicate their low quality. On the contrary, this indicates the excellent work of the masters for many centuries. Creating a carpet in the East is considered not so much a craft but as an art, that is why each handmade carpet looks unique.
The main value of kilim, in addition to aesthetics, is the absence of pile, it is easy to clean, which makes it a practical detail of everyday life and interior.
Kilim – the art of oriental symbolism
Kilims have long been decorated with ancient ethnic ornaments.
So, a traditional stylized image of an Iranian rug is a scarab beetle, diamonds and all kinds of geometric shapes made in pink, red, green, blue or ivory.
Anatolian kilims made of coarse wool are known for such ornaments as the figure of a woman with her hands on her hips (a symbol of fertility and motherhood), or lamb horns (symbolize the masculine beginning, feats and power). Also, a symbol of dualism, similar to yin-yang, is often found.
In contrast, Caucasian kilims look more elegant and are usually decorated with a medallion in the center. The traditional pattern is the image of an eagle as a symbol of courage and justice.
The Turkish kilims, originally used for prayer, are made from coarse fiber. Their center was always monophonic, and the pattern was located on the sides. The traditional colors for such carpets are red, blue, yellow and brown.
Berber kilims usually have a striped pattern and represent the most concise version of the ornament.
The largest variety of drawings are in Bulgarian and Greek kilims. Here, there are traditional patterns – floral and precious stones, and more rare – the vine, stylized figures of animals and even people.
Nowadays, kilim technology has undergone minor changes. Geometric patterns are most popular, and purple and turquoise have been added to traditional colors.
Kilim carpets in the interior design
And now let's move on to the description of decorating techniques, thanks to which the kilim that you liked will become a true decoration of the interior.
How to choose kilim:
To begin with, the choice of a particular kilim can occur in different ways:
there is a finished (or planned) interior, in accordance with which the carpet is selected;
or you meet a kilim in which you "fall in love" – regardless of how much its appearance matches the existing interior of the room in which you would like to see it.
We will not argue that some approach is more reasonable than another, but simply take it for granted: any of them is possible. How to act in each case?
In the first situation, take into account the color of the vast surfaces (walls, floor, sofa upholstery, bedspreads) – the main tone of the kilim should not repeat them. Otherwise, it will not attract proper attention. If the choice is small, try to choose the one in a different tone, contrasting, is clearly present in a large drawing.
The more concise the color scheme of the room, the more vivid and multi-color kilim you can afford.
Where to place kilim? The only answer is: where it will be noticeable enough (the free part of the floor, not covered by furniture). If there is a lot of furniture, it may be worth choosing a larger carpet size.
Textiles and kilim drawings for other home decoration:
The surge of interest in kilims inspired suppliers to offer not only carpets, but also other interior items created using the same technology. The most popular poufs with upholstery made by kilim technology, as well as decorative pillows. Nevertheless, there are also completely original pieces, such as chests, "wrapped" in clothes made of kilim.
Small accessories perfectly coexist with kilim carpets. As for large pieces of furniture, you will have to choose either a carpet or a chest, unless, of course, you are striving for improvisation on the theme of an oriental tent.
We hope this guide will help you not only choose the kilim correctly, but also make it a stunning interior decoration!