Home textiles will add notes of sophistication and comfort to any interior. Oriental-style decorative pillows give a special chic and charm to the interior design of any direction. Therefore, they are often used for interior decoration in a different style. Noble textures such as velvet, tapestry, lace are suitable for aristocratic interiors in the Baroque style, empire, modern, shebby chic, and delicate ikat, cotton, silk will perfectly fit into the Mediterranean, rustic, eco, fusion style. Contrast hi-tech, dynamic urban or expressive avant-garde will decorate pillows of various shapes and colors from leather, jacquard, knitted fabric.
Decorative pillows for sofas
How to add coziness and impressive luxury to the interior, while maintaining a harmonious balance of space? Use practical decor elements. Oriental-style cushions bring comfort and beauty to life, they are distinguished by a variety of shapes, ornaments, textures and decor elements: lace, fringe, embroidery, tassels and more, which makes them especially attractive. Decorative pillows for the sofa for the living room or study should be chosen in harmony with the overall interior design and the sofa itself. The color scheme and textures are selected taking into account the functionality of the room. In the bedroom or the nursery, use neutral colors and soft textures, natural motifs to match the sofa.
Use bright stylized ornaments for plain sofas in living rooms and halls. Correctly combine geometric patterns – stripes with squares, wavy lines with straight lines.
Items of the East are always distinguished by brightness, distinctive color, unusual tenderness and warmth. Selecting products individually for each room or zoning is quite simple. Focus on your feelings in the first place, but do not neglect the help of specialists.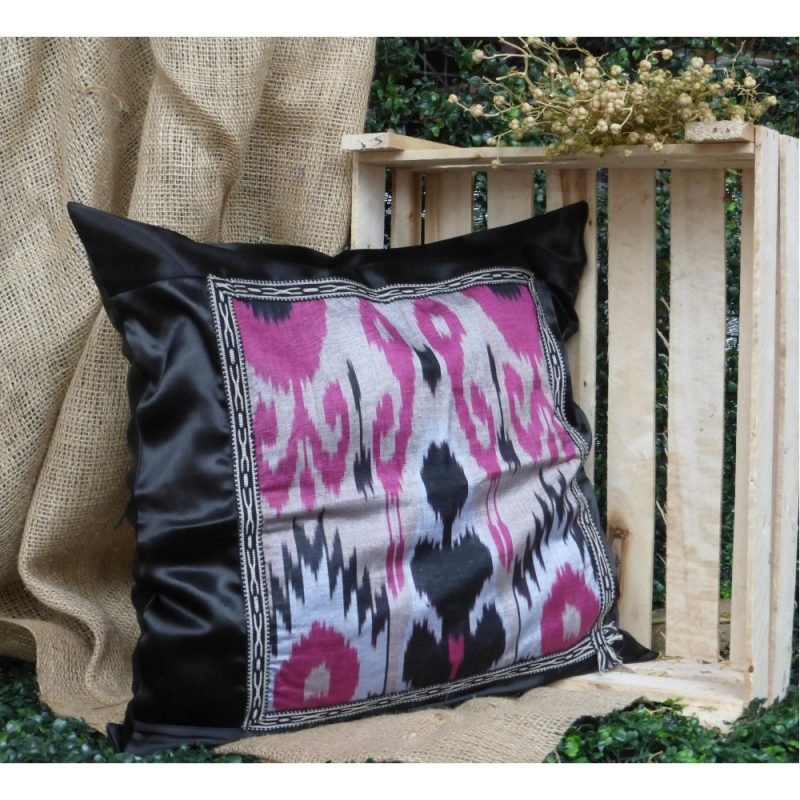 The size and shape of the pillows also influence the creation of a certain atmosphere. Large square pillows are appropriate for large rooms, they make the space more comfortable and warm. Round pillows are suitable for small rooms, visually slightly expanding the space and smoothing corners, while rectangular pillows look spectacular in urban interiors with irregular geometry, giving a certain symmetry to the space.
Pillow cushions for decor
Among the classic elements of the decor in oriental style there are special zest that are practical and beautiful. Use them in the design of rooms for various purposes or in zoning space. Such a technique will help to functionally and visually divide the rooms into certain zones.
Pillow cushions can be used on floors and furniture with equal efficiency. They are ideal for an oriental-style dining area, a relaxation and relaxation area, as well as a business office and a free-style living room. Eclecticism in modern fashion trends occupies a leading position. However, the mixing of styles should be clearly thought out and accurately verified. Pillow-cushions are perhaps the only element of decor that will effectively accent and in no way harm, will not look ridiculous and spoil the whole picture.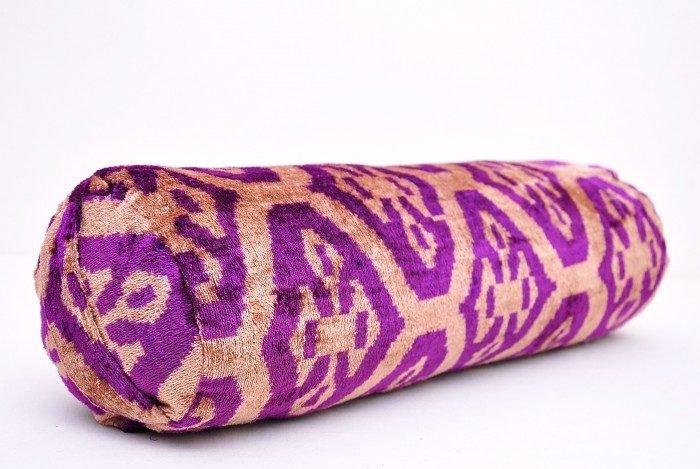 Ikat – Oriental Pillows
The traditional eastern technique of Ikat is a unique ornament on the fabric, applied using a special technology. A striking feature of such ornaments is the lack of clear contours. Such fabrics have a high cost and an incredibly attractive look, and their popularity is growing more and more around the world. Luxurious oriental ikat pillows are used to color accents in interior design. It is advisable to have several elements in the Ikat style in the room so that the pillow does not look too elaborate against the general background.
Ikat technique is used in various styles of interior design and in single copies, for bundling the color palette together. In this case, the ornament should contain all the colors used in the interior, and the pillows themselves are located in the central composition on the armchairs, sofa or directly on the floor.
Oriental flavor is a riot of colors and intricate patterns, it is mysterious and magic. With the help of individual elements of the decor, you can create the perfect place to relax from the daily rush and dullness of everyday life, decorative pillows will help us with this.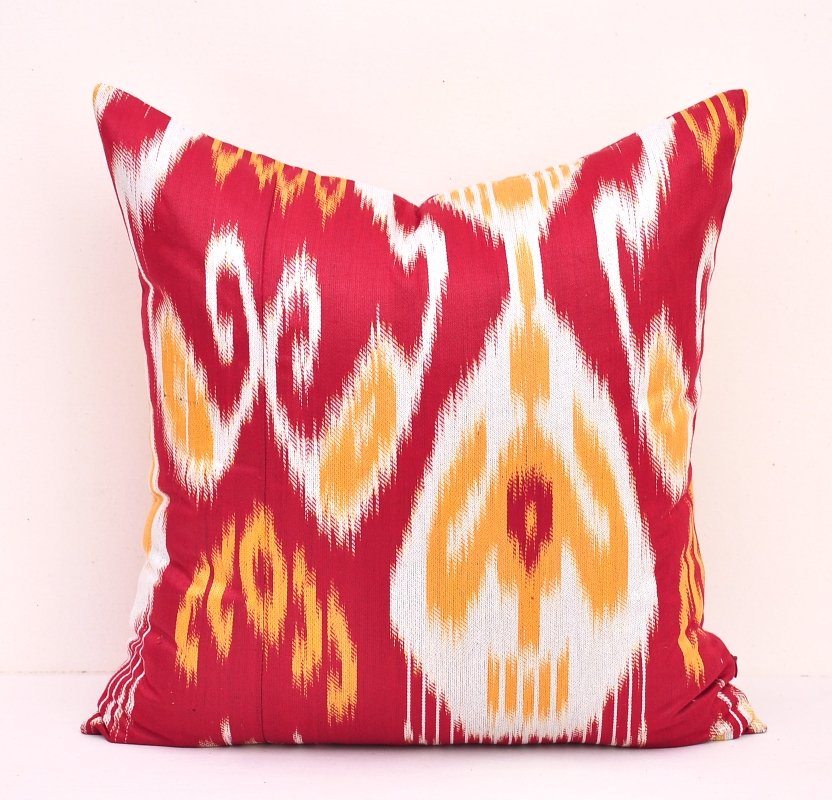 The main accent of the interior is oriental pillows, beautiful, embroidered with multi-colored silk, they are laid out not only on sofas and armchairs, but also on the floor. Sitting on a large pillow, as if on a throne, you feel like a Queen of Shamakhan, who lay down to rest from royal cares.
Oriental-style decorative pillows made of bright ikat convey warmth and art of skillful hands of folk craftsmen.
Ikat is a technique of dyeing fabrics by hand, each drawing is not like the other, which means you can be sure that there is no second such pillow in the world.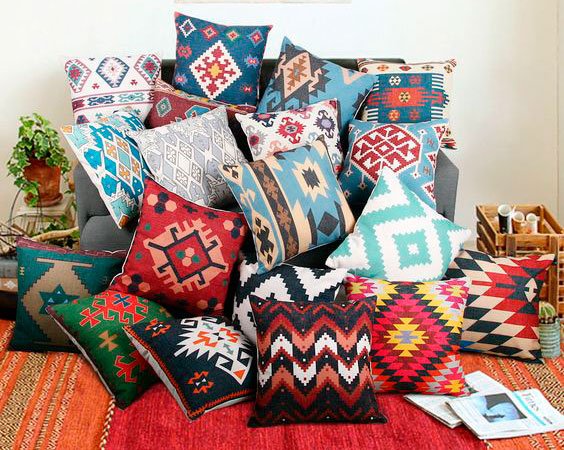 In our online store you can buy oriental pillows and several pillowcases for them, it is easy to give the home decoration a different mood by changing the tone of the pillows.
Decorative oriental pillows emphasize the beauty and originality of your interior.