Uzbek robe will warm you in cold, and it will protect you from the sun in the heat! Uzbek chapan is not just a bathrobe, chapan is a treasure! And indeed it is! Surely, when everyone mentions the word "Uzbek" or Uzbekistan, an image of an old man with a skullcap on his head appears, dressed in velvet chapan. Robe, like the skullcap, became symbol of the Uzbek people. It is included in the traditional national Uzbek costume. Without it, there is no celebration or event of a different kind in Uzbekistan.
Robe, the formerly exclusively masculine wardrobe item, has become favourite one of the female half of the population. Judge for yourself why. As a matter of fact, chapan is the simplest and, possibly, ancient outerwear. Chapan – quilted dressing gown, spacious wide cut, without a collar or buttons. Instead of buttons at chest level, it has two small ribbons on both sexes. It is tailored in such a way that one of the floors comes on to the other and does not swing open when walking, thereby creating a comfortable protection against wind or frost for the person who has put on chapan. On both sides of the hem, vertical cuts are made so that the robe does not hold down movements when walking or when a person sits on the floor. Uzbek chapan is usually made on a lining of cotton wool or camel wool, adding chintz on the inside, which comes into contact with the body and velvet, velvet or other "rich" fabric from the outside, and then quilts all the layers around the perimeter.
By the way, robe is not only warm, but also easy to protect from the heat. Regardless of whether the robe is warm or not, it can be tied up with a bright scarf on the belt, which undoubtedly adds a certain zest to the whole image, a bright accent. In addition, chapan is decorated with a bright braid that shears the edges of the collar, sleeves and hem.
But festive robes deserve special attention. They are sewn from the most beautiful silk adras or from the luxurious iridescent alo-bakhmal (Uzbek velvet), the lining is also selected with taste from beautiful fabric. For example, in the old days, robes for emirs or nobles were embroidered with gold threads, and they were a real work of art. Such robes spoke for themselves about the origin of their master, about his status. Such a robe, embroidered in gold, is still worn at the biggest festivals in Uzbekistan. The edges are decorated with braid woven by hand with silk tassels. They are presented as a dear gift to distinguished guests as a sign of great respect and gratitude.
Chapans in Uzbekistan are worn what they say: "To the feast, to the world, and to good people." For everyday life choose products from a simpler fabric – velour or cotton adras, and cotton lining. In this form, you can sit in your yard, not afraid to freeze.
Now robe is not only a part of traditional national clothes, but also a fashion item. This is by the way that now women also wear robes, not only residents of Uzbekistan, but also excellent representatives from all over the world. They wear it as outerwear, combining it with casual clothes in casual style.
The best and famous Uzbek designers invent and adorn chapans: long and short, the most colorful and diverse colors.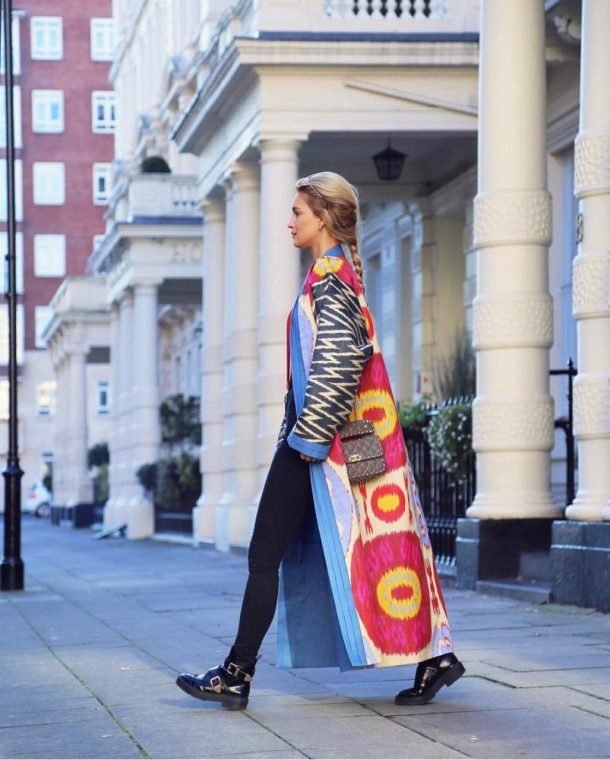 Uzbek national costumes are very bright, beautiful, comfortable and are part of the rich cultural traditions and way of life of the people. In the cities, it is rarely possible to meet people in national dress, today they wear it on traditional holiday events, but in rural areas it still serves as part of both everyday and holiday wear.
What did Uzbek menswear look like before? The basis of the national men's suit was chapan – quilted robe, which is tied with a belt scarf – kiyikcha. The traditional headdress is a skullcap. Kuylak was worn on the body – a lower men's shirt of direct cut, and Ishton – wide trousers that taper to the bottom. Feet shoes in boots made of thin leather.
Belts in ceremonial clothes are often very elegant – velvet or embroidered, with silver patterned metal plates and buckles. Casual kuylak girdled with a long scarf-shaped sash.
Uzbek national women's clothing. Traditional Uzbek women's costume consists of a tunic-like simple cut of a han-atlas dress, as well as bloomers. Satin fabric and rich gold embroidery are used in festive clothes. The women's headdress includes three elements at once: a skullcap, a scarf and a turban. An indispensable addition to the costume of Uzbek women of all ages has always been gold or silver jewelry. In the Surkhandarya region, the colors of red shades were more preferred as a symbol of wealth. The embroidery pattern was not chosen by chance. He always had either magical or practical significance. By drawing it was possible to understand the social status, and sometimes it was invested in other values. For example, a repeating geometric pattern on the braid is a kind of amulet. The clothes of dark blue and black colors were not worn in superstitions in any region of Uzbekistan. Sogdian patterns retain the influence of Zoroastrianism. Colors in this region were selected on the basis of the position in society. For example, the prevalence of blue and purple hues in a woman's dress spoke of the high status of her husband, and green motifs were often used by peasants and artisans.
The shoes consisted of mahsi (ichigi – beautiful boots without a backdrop, with a soft sole, without a heel) and boots made of rough leather or rubber. It was a very comfortable and warm shoes, which to this day are respected.
Summarizing all the advantages of this outerwear, Uzbek chapan can be called a treasure. And women of fashion around the world today, using modern styles of outerwear, wear things made with the same simple manufacturing technology as chapan with pleasure and convenience. And this thing is called a kaftan, a kind of chapan, made in most cases from adras, not having a strapless chest, a quarter length sleeve and the length of the kaftan itself up to the knees or just above the knees. Such kaftans today are widespread among the women of our country. They are comfortable, easy to wear, they can be combined with modern clothing.