Can you imagine a trip abroad without memorable souvenirs? Souvenirs are not only gifts for loved ones, but also a memory, a part of the country you visited. In our country, the culture synthesized nomadic and agricultural cultures, which are originally adjacent to its territory, you will find many Uzbek souvenirs that you will want to take with you. What kind of souvenirs can be purchased in Uzbekistan and where is it better to buy, for example, ceramics, and where are our national carpets?
Souvenirs of Uzbekistan
Uzbek souvenir ceramics
Virtually every region of our country has its own school of ceramics with its own original style and manufacturing technique. So, having visited Khiva, you can purchase a Lyagan dish or a plate-badiye decorated with blue and ultramarine patterns with wide horizontal borders that can be hung on the wall at home. As a vase, the Khorezm vessel-hum will look original. Also unusual look can be created by lamps-chiroks, which will create an atmosphere of the East in your home.
Exotic lovers can not miss the famous center of ceramics in Uzbekistan – the city of Rishtan. Once coming here, do not forget to go to one of the craft workshops and purchase pottery from all shades of blue and turquoise. Rishtan lyagans and figured vessels in the shape of a duck – obdasta urdak, painted with ancient patterns in the form of pomegranate fruits and almond flowers – traditional souvenirs of Uzbekistan.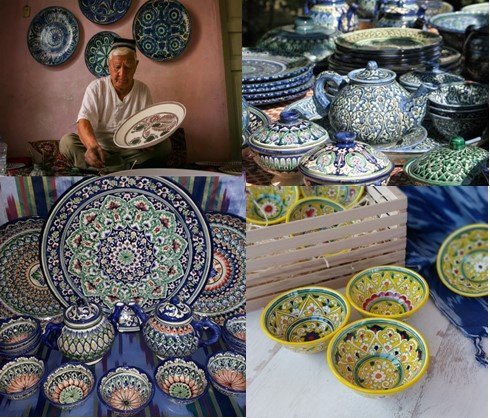 In 40 km. far from Bukhara there is the small town of Gijduvan, for a long time famous for its ceramics of warm tan tones with green and blue patterns. Here the center of ceramics of the Nasrullaev family is located, who are known to all of Uzbekistan, which transmit the secrets of art to the 60th generation. Average prices in the center are $3 for piala, $5 for kasa, and $ 7-8 for lagan.
No one will be indifferent to various ceramic figurines depicting folk favorites, miniature camels and other animals painted by folk craftsmen by hand. In any eastern Uzbek market, in the shops, located near every architectural monument, you can inexpensively buy a variety of funny figures: here is a tea-gardener with a tray, which consists of miniature teapots and bowls, and next to it a merry watermelon seller, the other one- crafty old-time aksakals.
Carved metal and wood products
Practically at every Uzbek market there are benches where knives, daggers and even swords decorated with decorative carvings are sold. The traditional souvenir of Uzbekistan is the knife "pichok", which has a peculiar shape of the blade and handle. The most famous are the knives of masters from Chust. Light and elegant, they have a curved end of the blade and a slightly lowered handle. The dark steel of the blade rings with a slight blow, and the scabbard is decorated with a cloud-like pattern.
One of the areas of metal carving is jewelry. Jewelry products of Tashkent, Bukhara or Samarkand are in demand not only as Uzbek souvenirs, but also as decorations for special celebrations, where you can shine with originality and originality of the image. Traditional Kashgar-Boldak earrings and domed earrings that ring with pendants, silver bracelets with carnelian, necklaces with beaded lace and turquoise will complement the modern dress and give the image oriental mystery. Many Uzbeks jewelry is not only a jewel, but also a charm. A special place among them is taken by the "tumor" – a silver or gold case, on which prayers are engraved, and within it is a prayer-guard or a miniature Quran.
Having been in Uzbekistan, it is impossible not to draw attention to a large number of products from carved wood. Uzbek craftsmen perfected the art of ornamentation in carving and painting on wood. From ancient times, ancient Asian buildings were decorated with carved columns and massive wooden doors, where the name of the master was often woven into an intricate floral pattern. For the living room you can buy a carved table with stools of elm, walnut and juniper, and collectors of oriental souvenirs must buy lauch – a book holder that is cut from a solid bar of solid wood without any fasteners and hinges. Women in particular should look for boxes of precious wood, decorated with carvings or paintings, painted with floral ornament "islimi", because they are so convenient to store jewelry, cosmetics and other women's trifles.
National clothes, furs and embroidery
The originality of Uzbek embroidery is different. Embroiderers of Samarkand and Bukhara are considered the most skillful. Famous Uzbek suzane look like skillfully embroidered carpets. But especially it is worth paying attention to the gold-embroidery art. Nowhere will you find such skilled embroiderers with golden threads as in Bukhara. Exotic embroidery will be a great decoration for any home. Craftswomen of Kashkadarya nicely make handbags, cosmetic bags, decorated with bright national embroidery.
In Bukhara it is also worth going for a fur coat and a headdress from astrakhan fur. The warm, dense and shiny fur of Bukhara astrakhan sheep has a sophisticated appearance and has healing properties.
Festive national clothes can also be an excellent Uzbek souvenir. This is a men's "Zarchapan" dressing gown or a "Kamzul" women's dressing gown, richly decorated with gold embroidery. But, of course, the main souvenir for all visitors to Uzbekistan is the skullcap – the traditional headdress of the peoples of Central Asia. Each region of Uzbekistan has its own characteristic skullcap.
Traditional Chust skullcaps made of black satin with a white pattern in the form of four pepper pods are an obligatory accessory of the men's national costume. But not only men wear this headgear. Uzbek women traditionally decorated their skullcaps with various ornaments and even precious stones. Women's skullcaps are colorful and diverse, especially Bukhara skullcaps, which are traditionally embroidered with gold threads.
Oriental fabrics and carpets
Uzbek silk fabrics are the most famous: cloud-like, with vague patterns of matter – abr and ikat. Silk made in Margilan, one of the most famous along with the khan-atlas and adras – the national Uzbek fabrics. As for Uzbek carpets, they have long been famous for their beauty and high quality. There are Khiva, Bukhara, Samarkand, Kokand, Shakhrisabz, Karakalpak carpets, various in manufacturing techniques, patterns and purpose. Made by hand and from natural fibers, they are of particular value, and they are much more expensive. According to Eastern tradition, carpets are not only laid on the floor, but they also adorn the walls. Samarkand silk carpet is especially famous. Its natural pile is distinguished by softness and contrast, luxurious colors make it a desirable decoration for any interior.
Souvenirs for collectors
One of the Uzbek musical instruments can become a very unusual Uzbek souvenir or even a subject for a collection.
String, percussion and wind instruments: Kobuz, Dombra, Dutar, Tanbur, Rubab, Surnay, Karnay, Doira and many others – are decorated with elegant inserts, subtle patterns, and at the same time give a rich rich sound.
Many of these souvenirs can be purchased on our website. We offer you only the best oriental products, including ikat fabric, famous throughout the world for its peculiar charm, unusual and oriental charm!