Once upon a time, one of the rulers of Margilan, who had four wives, decided to marry for the fifth time. He fell in love with the young beautiful daughter of the artist. The artist was upset upon hearing of the intention of the Khan, asked him to change his mind. Khan promised to retreat only if the artist produced something more beautiful than his daughter until the next morning.
The artist was desperate all night. He did not eat all this time, did not sleep, and did not say a single word. At dawn, he went out, sat down and began to watch the stream. At that very moment he saw the reflection of clouds and all the colors of the rainbow in the water. He was struck by a fantastic idea, and then expressed all this beauty that he saw on the fabric. A small piece of cloth was brought to the khan. Khan was surprised because he had never seen anything more beautiful. Khan accepted this artistic model and left the idea of marrying the daughter of the artist. After this incident, the fabric was called the "Khan-atlas", as it was invented specifically for the khan.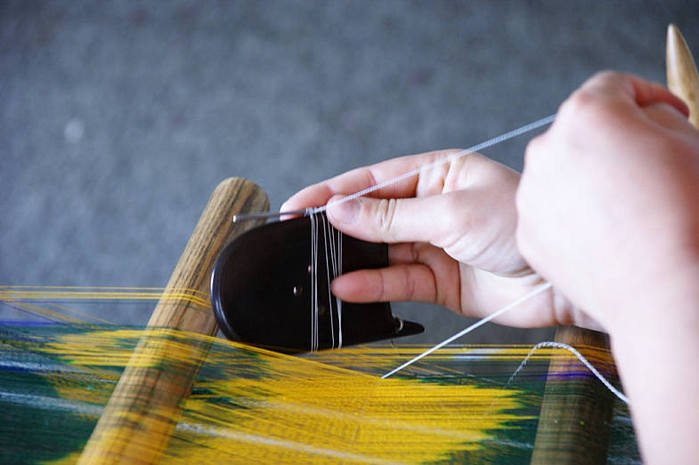 When everyday images cease to be memorable, the uniformity of appearance casts a melancholy, and merging with a faceless crowd seems like a catastrophe, ethnic style will come to the rescue. Ethnicity allows you to travel not only to different countries, but also to different eras.
That is why in recent years, outfits from national fabrics that give the image a special charm have gained wide popularity in Uzbekistan. About the origins of this trend, how and with what to combine clothes from national fabric, and also about how, after so many years, the khan-atlas was again included in the list of everyday wardrobe.
Ethnic or national motifs were always present in fashion and were a kind of inspiration for many fashion designers, including Uzbeks. The most expensive and rare fabrics are handmade by craftsmen who pass on their skills by inheritance as the greatest value. The centers of this craft were and remain Bukhara, Margilan and Namangan. Uzbek ikat is appreciated by designers and from year to year is demonstrated in the best collections of world fashion. Today, in addition to Uzbekistan, ikat is produced in China and Turkey.
TYPES OF FABRIC PERFORMED IN IKAT TECHNIQUE:
• Shoyi – thin silk fabric (usually goes on scarves, blouses, skirts).
• Adras – a dense fabric, which is of two types: pure silk and with a transverse thread of cotton.
• Bekasam – striped fabric from which chapan was previously sewn.
• Khan-atlas – silk fabric, which differs from the others in a special interlacing of threads, which creates a shiny front side.
• Abra calico – natural cotton fabric with an abra pattern.
Due to its unusual universal properties, national fabrics keep cool in the summer and give off heat in the winter. From them create multifunctional clothes. You can sew blouses, skirts, suits, evening dresses and even coats and raincoats from shoyi, adras and khan-atlas. Natural abra fabrics can be used to make luxurious accessories – scarves, scarves, bags and hats.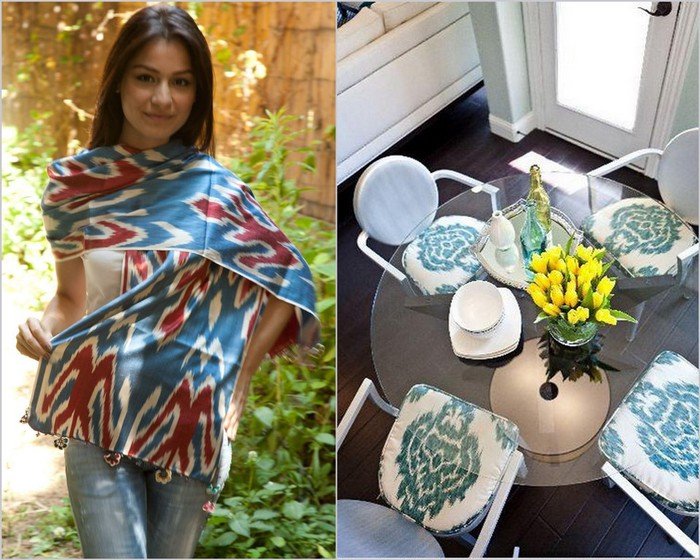 The nobility of these materials and the rich assortment allows you to use them for interior decoration in an oriental style – for example, snipe, it is the best suited for decorating walls, curtains, lampshades, sewing pillows and ottomans, up to the upholstery of upholstered furniture, which gives these things special man-made value . It should be noted that these fabrics have already conquered the European market and have more than once been the absolute authority at exhibitions in London, Paris, Berlin.
The advantage of ikat fabrics, including khan-atlas, is that they are natural (including dye), made by hand on a special machine, so their width, as a rule, is from 40 to 60 cm. Also, when creating models from such fabrics, you must use certain sewing techniques, to be able to choose the right pattern.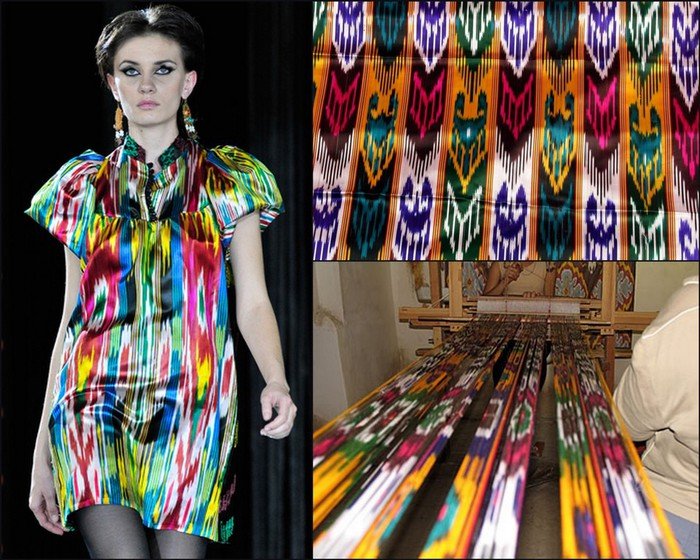 It is worth noting that modern fabrics are not always created with taste, sometimes the pattern is very bright and large, sometimes the colors are poorly selected in contrast to the colors and patterns that our ancestors created. When you look at these fabrics in museums, you see that their colors are chosen more harmoniously and as if muted.

OUR TREND ON WORLDWIDE PODIUMS
Back in the 60s of the last century, the famous Yves Saint Laurent applied national motifs to his collection, and since then it has become very popular. And to this day, traditional national Uzbek fabrics regularly – with an interval of 3-4 years appear in the collections of famous designers. For example, one of the first our fabrics in our collection was used by the American designer Oscar De La Renta in 1967, then in 1997-98 and in 2005 he again turned to these fabrics.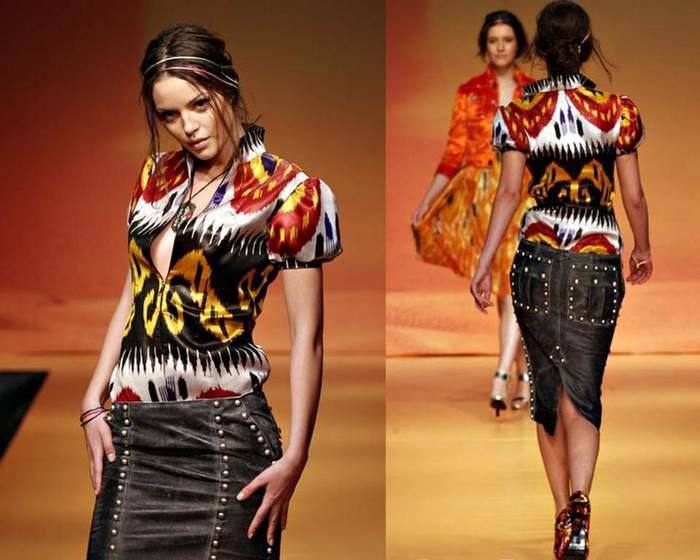 In Uzbekistan, there was a big upsurge in fashion with national motives in the late 90s. Then the Englishwoman Philippe Wotkins, a teacher at the London Fashion College, came to visit us, who was fond of the East and set herself the task of reviving the production of silk fabrics in the style of ikat. She, together with art historian and guardian of the traditions of folk art Natalya Musina, traveled to the Ferghana Valley, which was the center for the production of national fabrics. Together, they managed to achieve a lot in the revival of hand weaving and ancient patterns and drawings. In those years, a number of young designers appeared who were very interested in working with this material. And we can say that in the period 1996-2003 there was a kind of boom in fashion with national motives. But at the same time, there was a prejudice: they say, these fabrics are only for national clothes or for the dowry of the bride. But fashion always wins, and gradually people began to wear clothes from national fabrics – European cut dresses, jackets, raincoats, frock coats, etc.
After the peak of popularity, there was a lull and only recently – 3-4 years ago, interest in national fabrics and motifs in clothes reappeared. This can be explained by the fact that a new generation of fashion designers has come who is also interested in using ethnic flavor in their models.
Fashion has become very diverse and democratic. Each fashion designer creates everything he wants. The motto of fashion today is "EVERYTHING CAN BE!". Many designers follow the path of synthesis of patterns, fabrics and colors – a strip with peas, floral motifs with a cage. Patchwork is very fashionable – a mixture of directions and styles, i.e. everything is bright, colorful and eclectic. But it is worth noting that today fashion designers accustom consumers to individuality. After all, Coco Chanel said: "Fashion comes and goes, but style remains." Therefore, given the diversity of modern fashion, everyone should develop a style that is convenient and suitable for him. And the first rule here is that you should choose clothes in which you feel comfortable!