Moroccan style in the interior is a completely unique symbiosis of Arabic motifs with characteristic elements of the culture of other ethnic groups. Its indispensable feature is specific lighting, which, for the most part, sets the mysterious alluring atmosphere of the east. The elements of lighting, due to which this effect is achieved all over the world, are known as "Moroccan lanterns".
Moroccan lanterns are wrought lamps, the walls of which are decorated with twisted brass ornaments or glass painted with henna, often colored. These Moroccan lamps are designed to be installed candles in them, although at present there are many stylizations made industrially and adapted to the emission of electric light.
Often a metal ring is welded to the lamp, allowing it to be hung on the ceiling, wall or special pole on the stand. They are recognized pride in the Moroccan bazaars, as they are made exclusively by hand by hereditary craftsmen in Medina and Marrakesh. Such lamps can also have a hammered base and be covered with camel skin. They amaze with their capriciousness and variety of forms and design. There are round, conical, pyramidal, arc-shaped or even figured, repeating silhouettes of animals and birds with their outlines.
Moroccan lamps are distinguished from any other light sources by their special, soft diffused luminescence and the refraction of rays enclosed in a sheath of original design and delightful color combinations. The use of such decorative light sources completely changes the space and advantageously transforms it, provided that the light sources are correctly positioned.
In our engraved brass collection now you can find new types of Moroccan brass lanterns, so as Moroccan patio lantern, Arabic style lantern, gorgeous lantern and a brass candle holder. All these lamps will perfectly fit into any interior and will complement the room with charming lighting.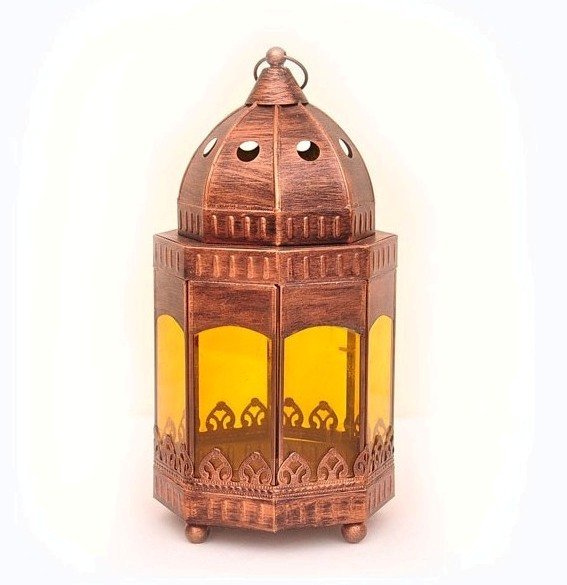 If you want to add some personality to your room, then the collection of Moroccan lanterns is simply what you need for! All of these lanterns would be great in an entryway, dining room table or use them as décor.
Can you imagine the great look which would be created with these brass lanterns? It would be amazing, considering that they are handmade and each design is unique and personal.
Lanterns and chandeliers in Moroccan style
The interior in the Moroccan style is a holiday. And it is not at all necessary that it should be all of the rainbow colors. Even if your apartment is decorated in soothing pastel colors, Moroccan patterns, curves and fabrics will add comfort to the tent and majesty from the palace. But you must understand that choosing such an interior, you place a great responsibility on yourself, because each individually selected object must be a work of man-made art. Nothing can be left without attention, love for details, and unnecessary lined mosaic. Everything should be a decoration. Everything should serve the comfort and pleasant stay of you and all your numerous guests in this room. This also applies to light. Every lampshade and lamp in Moroccan style should be special, decorated, colored, woven, with some special fabric and so on.
Advantages
Add decor. This is the case when another brush hung on the lampshade will not become redundant, and another pattern will not make the design coarse.
Experiment with ornaments in the design. Moroccan style loves different colors and textures, you can hardly go too far.
Be eclectic. It should be understood that the Moroccan style has something in common with the rest of the eastern styles, so you can easily mix them with it.
Disadvantages
Usage of realistic human and animal images in the Moroccan chandeliers is not welcomed. Your house may be full of stylizations, but you should not decorate objects of décor and lighting with portraits or sculptural elements.
Focus on central lighting. Moroccan style is very cozy and intimate, it is better to hang cozy lamps made of colored glass everywhere and put floor lamps with original weaving. The room will only benefit from this.
There are several types of lanterns. Oriental and Arabic style lanterns can be divided into the following types:
1) Egyptian style Classified into:
• a lamp in the Islamic style;
• Bedouin style.
2) Moroccan lamps (Andalusian culture)
3) Arabic maritime style, which combines the above styles: Egyptian and Moroccan.
The main distinctive feature of Oriental lanterns is their forms. There are many different forms of Oriental lamps. Lamps are made of brass, copper, colored glass, beads and precious stones.
The most commonly used colors in the manufacture of Oriental lamps: red, blue and yellow. Moroccan style is somewhat different from the rest due to the use of more details and miniatures in the design of lamps. The same brass is widely used in Moroccan style with a combination of colored glass and precious stones. We will give a few examples of lamps in the Oriental style, but at the same time being modern and popular. The common features of this style are the use of brass along with colored glass and Islamic forms. The colors used are blue, red, yellow and some other colors, such as green and white.
Palace lamp. The large Moroccan lamp (exterior / interior) is handmade with embossed colored glass panels and an elegant hand-made design.
Transparent glass lamp. Magnificent large octagonal Moroccan lamp made of transparent glass. Unusual design is made by hand by artisans of Marrakesh. This lamp is unique and makes the place where it is located unusual.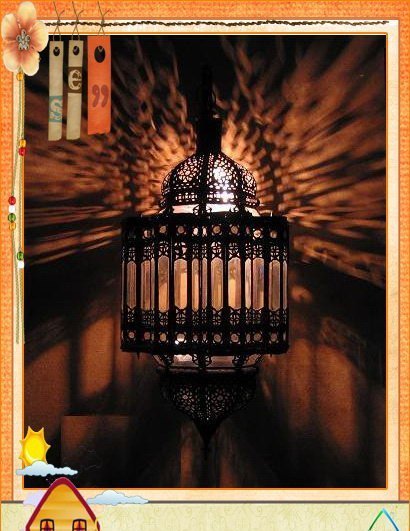 Marakesh garden lamp. The magnificent and unique lamp (external / internal) from stained glass of blue, burgundi, green and amber colors. The lamp will add color to any room.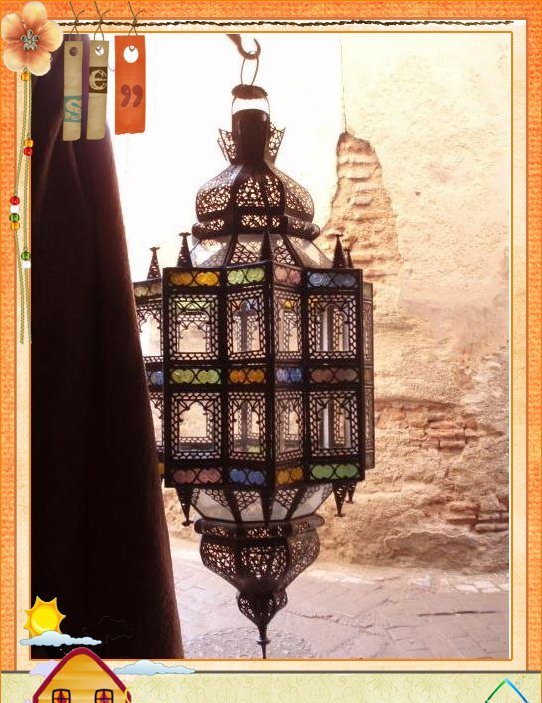 Moroccan chandelier. Large handmade Moorish Moroccan lamp (outdoor / indoor) with elegant metal panels and with stained glass inserts. This lamp will look good near the pool, in the courtyard or even in the living room.
Mogador lamp. Magnificent handwork Moroccan lamp from multi-colored stained glass.
Medina lamp. Moroccan lamp from stained glass Moorish colored and transparent glass, surface with imitation of a rusty coating, door and glass base. You can make it electric, or you can just put in a candle to see the unusual light it radiates. The lamp is made by hand in Marakesh.
Anelsky lamp. Incredible and unique lamp that will make any room exotic. It can be amazing when used as an outdoor / indoor lamp.