The allure of Ikat fabrics lies in their enchanting, intricate patterns, and vibrant colours, which have captured the hearts of interior designers and fashion enthusiasts alike. The uses of Ikat fabric in interior design are infinite, adding a touch of exotic charm to any space. Originating from the traditional dyeing techniques of Uzbekistan, Ikat fabrics offer endless possibilities for home decor. Here, we unveil eight transformative ways to weave the magic of Ikat into your living spaces.
1. Dazzling Ikat Pillows
Pillows are an absolute necessity, whether they are used for decorating a couch or for snuggling on a bed. What better way to beautify your couch or bed than with Ikat pattern pillows? These pillows can freshen up your living room or bedroom area with their eye-catching designs. Ikat Pillows, beyond their comfort utility, can serve as exquisite decor elements, and the Ikat patterns simply take their charm up a notch. The vibrant Uzbek Ikat pillow covers at Alesouk are crafted from traditional Ikat material sourced from Margilan, Uzbekistan, ensuring the authenticity of the designs. Each ikat pillow cover boasts a unique design, owing to the meticulous artisanal craftsmanship and the vivid, bold patterns. These covers' added features are the invisible zipper, facilitating easy removal and maintenance.
The Alesouk you can find a diverse selection of ikat pillows, coming in various fabrics, shapes, and designs. This site is a treasure trove for those who appreciate the beauty of intricate ikat patterns and the comfort of high-quality fabrics.
Ikat Pillows by Fabric Types:
Silk Velvet Ikat Pillows: Silk velvet ikat pillows are a luxurious choice for those who seek an extra touch of elegance and comfort. The pillows are incredibly soft to the touch, with the lush velvet lending a sense of sophistication. Silk, being a natural temperature regulator, makes these pillows ideal for use all year round.
Cotton Ikat Pillows: Cotton is a natural and breathable fabric that offers superior comfort. The cotton ikat pillows from Alesouk come in a variety of vibrant and intricate designs. These pillows are not only a design element but also a functional one, being easy to wash and durable enough for everyday use.
Ikat pillows by Shapes and Sizes:
Square Ikat Pillows: A classic choice, square ikat pillows come in a variety of sizes to suit any seating arrangement. The versatile shape easily fits with couches, chairs, and beds, creating a stylish aesthetic that pairs well with both modern and traditional décor.
Lumbar Ikat Pillows: Lumbar pillows provide excellent support to the lower back. In addition to their ergonomic benefits, these pillows serve as a stylish statement piece. They're especially useful for accenting chairs or placing them at the centre of a bed or sofa.
Long Bolster Ikat Pillows: Bolster pillows provide a unique visual impact. These long, cylindrical pillows are ideal for use on beds or large sofas. In addition to their aesthetic appeal, they're also functional, often used for support when reading or relaxing.
The diverse selection of ikat pillows from our collection offers something for every taste and décor style. From the soft elegance of silk velvet to the practical comfort of cotton, from classic square shapes to supportive lumbar and distinctive bolster designs, customers have a wide range of options to enhance their home's comfort and style.
2. Luxurious Upholstery with Ikat Fabric
Choosing upholstery for your furniture involves considering factors like durability, comfort, and style. Ikat fabrics emerge as a stellar choice, owing to their unique designs and an array of colors, ranging from vivacious oranges to earthy tones. Ikat fabrics are handmade, blending silk and cotton, and require special care to maintain their elegance. Use them for upholstery of statement pieces, enhancing the aesthetic appeal of your interiors.
3. Illuminating Ikat Lampshades
Lampshades can greatly contribute to the character of a space. With Uzbek Ikat fabrics, personalizing your home decor, from petite wall lights to grand chandeliers, becomes a delightful endeavour. The radiant colors and patterns create stunning accent lights, leaving a profound visual impression.
Lampshades are vital elements of interior design. Ikat fabrics offer a distinctive way to personalize your lighting fixtures, from wall lights to ceiling chandeliers. The radiant colors and intricate patterns of Ikat create an exceptional accent light, leaving a lasting impression on the viewers.
4. Eye-Catching Ikat Curtains
Curtains significantly impact the ambience of a room, and Ikat fabric can make them a unique design statement. Whether you prefer bold designs or simple aesthetics, Uzbek Ikat fabrics cater to diverse tastes. From geometric patterns to floral designs, they are suitable for both modern and traditional interiors. With Ikat fabric, you can create unique window treatments that add color and pattern to your space. These curtains can work beautifully in houses that have a modern or classic aesthetic.
5. Captivating Ikat Bedcovers
The right bed cover can enhance your sleep quality and the aesthetic appeal of your bedroom. Ikat bedcovers, with their classic designs modernized through traditional techniques, make a striking addition to minimalist bedrooms. They are available in various sizes, and when paired with matching or contrasting pillowcases, they create a fascinating ensemble.
Ikat Bedcovers: A Canvas of Comfort and Style
Bedcovers are not just about comfort; they're also a canvas for expressing personal style. An Ikat bedcover can transform a bedroom, adding warmth and a touch of the exotic. The vibrant colors and intricate patterns of Ikat fabric can create a lively environment, captivating with the heritage of the East.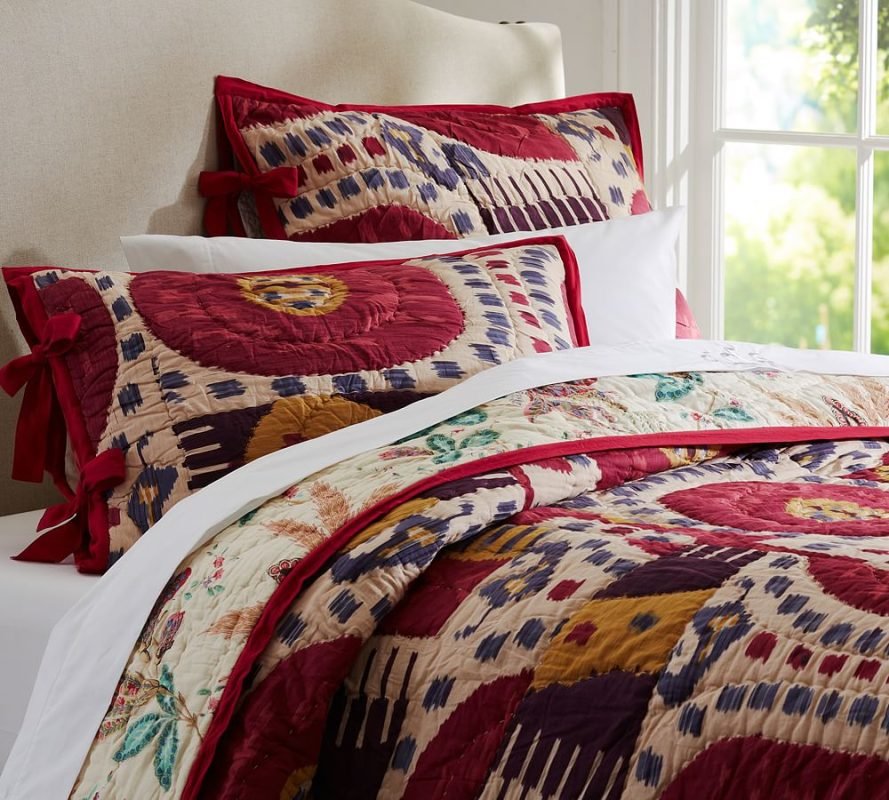 6. Artistic Headboards with Ikat Fabric
An upholstered headboard with Ikat fabric can be a unique decor accent, imparting a bohemian flair to your room. Whether in monotone or vivid colors, Ikat headboards transform any space into an aesthetic and tranquil retreat. These headboards, coupled with a matching wall fabric, can create a luxurious and rich interior appeal.
7. Elegant Dining with Ikat Table Runners
Table runners are an integral part of table decor. Ikat table runners, made with a blend of silk and cotton, add a traditional touch to your dining experience. They bring color, texture, and a unifying element to your dining room, adaptable to any setting. Feel free to get creative and accessorize your Ikat table runners with flowers, candles, or other decor items.
Ikat Table Runners: Setting the Table with Style
Table runners may seem like a small detail, but they can have a big impact on the look and feel of dining space. An Ikat table runner adds color, texture, and a unifying element to the dining experience. Whether it's a casual family dinner or a formal gathering, an Ikat table runner can elevate the occasion.
8. Ikat Fabric as Wall Art
Adding a new dimension to the way we perceive home decor, ikat fabric can be utilized as a form of wall art. This unconventional use of ikat fabric not only adds a vibrant dash of color and pattern to your walls, but also infuses a touch of heritage and tradition into modern interior design. By selecting an ikat fabric with a striking pattern and color scheme, it can be framed or stretched over a canvas and then mounted on the wall. This is a perfect way to showcase the intricate designs and craftsmanship that goes into creating ikat fabric.
9. Ikat Fabric for Creating Decorative Baskets
In the world of innovative home decor, even items of functionality can be transformed into elements of style. Ikat fabric can be used to create decorative baskets, serving as a charming and practical addition to any room. These baskets can be used for storing magazines, throw blankets, or even indoor plants. The process involves using strips of ikat fabric to either wrap or weave around a base basket structure. The result is a stunning piece of decor that serves a functional purpose while also acting as a conversation piece due to the beautiful ikat patterns.
The use of Ikat fabric in interior design is a testament to the versatility and timeless appeal of this unique textile art form. From pillows to upholstery, lampshades to curtains, bedcovers to table runners, Ikat fabric can transform any space, adding a touch of the exotic and a burst of colour and pattern. As we continue to explore new ways to incorporate Ikat fabric into our homes, we celebrate the rich cultural heritage and skilled craftsmanship that this fabric represents.