An ottoman is a low seat. It differs from a chair, firstly, by a small height. And secondly, they may not have legs. They are not mandatory components of sets of upholstered furniture or other components of the interior. Their presence in the house is not considered a necessity. Often people don't even remember buying ottomans. However, if they are present in any composition at home, the interior only wins. Padded stools perfectly complement any interior space of the house and make it a little more comfortable. A variety of designs, colors, sizes and shapes increases the options for combining ottomans with other elements of the interior.

In essence, ottomans are big pillows. To give rigidity, these "pillows" are equipped with an internal frame made of wood or plywood. Although this is not necessary: there are padded stools and frameless.
Such, for example, are the popular Moroccan ottomans, which are a round pillow made of leather "petals." Moroccan pillows come in a variety of colors, with colors generally very bright. These ottomans are not too comfortable to sit on. Most often they are used as a footrest. However, the main function of Moroccan poufs in a modern interior is decorative.
Ottomans can be on legs – in this case they resemble small benches or low stools. Poufs-cylinders are also common – on wheels or without. They look very beautiful and stylish, visually smooth the sharpness of the corners in the interior. To use the space to good use, furniture manufacturers offer poufs with a folding or removable seat, under which there is a storage place. This is a very convenient, functional little thing.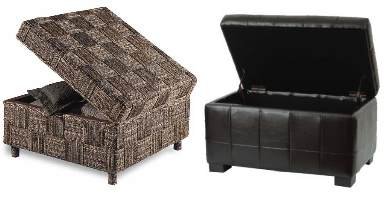 How is a banquet different from an ottoman? If this is an ottoman with legs, resembling a small bench rather, then this piece of furniture is often called a bench. A seat without legs, and even more so without a frame, is called an ottoman. In fact, "ottoman" and "banquet" are synonyms.
Moroccan puffs
In Morocco, a lot of exclusive things are created, famous around the world, original in their color. One of such unique masterpieces is Moroccan ottomans. This very practical element of interior design was created many centuries ago. During the history of its existence, there have been many transformations, but in the pursuit of excellence, masters still use the original idea, both in design and in appearance.
Moroccan poufs are a comfortable low stool without legs, more reminiscent of a round hard pillow sewn from petals. It is incredibly practical and has many uses, from a bedside table to a footrest. Design decoration is carried out in various colors, often decorated with handmade embroidery.
Where to buy a Moroccan pouf?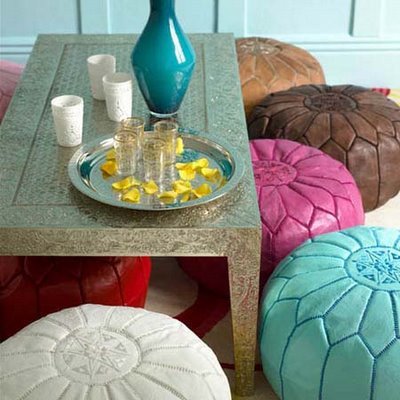 Creating a unique atmosphere in the house is incredibly simple with the help of such designer vintage elements. Buying a Moroccan pouf is now not only fashionable, but also convenient. To do this, you do not need to visit an exotic country, but rather order in our online store. The price range is quite wide and depends on the materials (usually genuine leather) and the originality of the design. When choosing a model, due attention should be paid to workmanship and design. It is important that the ottoman is harmoniously combined with the overall interior and emphasizes style. A wide selection of products of the highest quality at reasonable prices will help you get exactly what you want. Realistic photos and detailed descriptions in catalogs will help you make the right choice.
Moroccan pouf is a magical thing that brings a fresh stream to the most restrained interior. And decorative ethnic embroidery in the traditions of colorful Morocco gives ethno-chic to this fashionable element of decor.
Each pouf, like an exotic fruit, is filled with granules, "seeds", which makes this very voluminous accessory incredibly light and very elastic.
You can sit on a pouf, and yet, you can find thousands of uses for it: like a coffee table, footrest, bedside table – in a word, it all depends on your imagination!