Ikat in the modern world is not only a fabric made by a special technology, but also a masterpiece that has gone down in the history of many designers and connoisseurs of art. Being initially only a fabric for sewing various kinds of clothing, today ikat has greatly expanded the boundaries of usage. For example, you can find ikat patterns in everyday life, in decorating dishes, furniture upholstery, curtains, floor lamps, pillows and much more. In this article, we present you the twenty most beautiful objects that use ikat pattern.
Furniture, in particular sofas and armchairs – is an integral part of the home interior. Ikat in this case is perfect as upholstery and it will certainly give the house an oriental flavor.
Also ikat is well applicable as bed linen. If you combine in color bed linen with curtains in the room, for example, as in this picture, it will beautifully complement the image of your bedroom.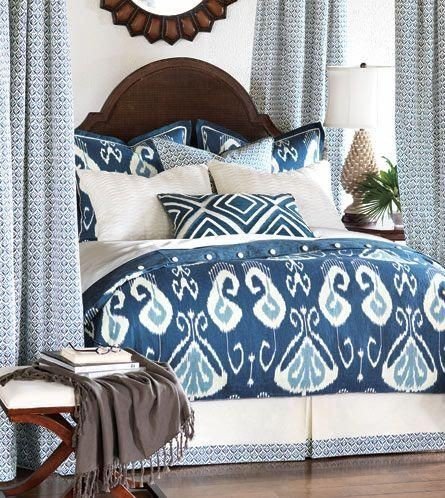 Top 20 ikat décor images
Curtains are the best solution for using ikat fabrics. The length of the curtains quite brightly reveal the beauty of the color and patterns of the fabric.
Like curtains, jalousie is also great for using ikat fabrics in it. It is important to choose the right color and design of the jalousie, so that it is combined with the interior of the room.
It is impossible to imagine home comfort without pillows, and even more so if they are made from ikat patterns.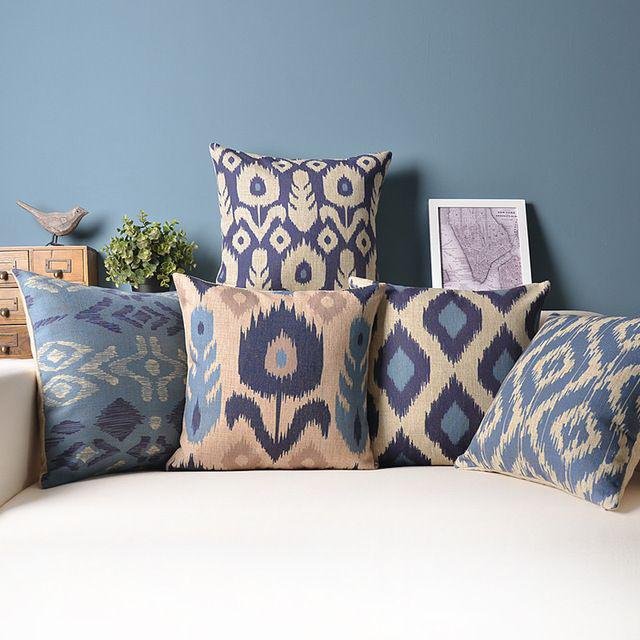 Recently, ikat design has also begun to be used to decorate dishes, including vases, jugs, containers for storing products. This area of application of ikat patterns appeared quite recently, but despite this it is gaining great popularity.
Ikat is also widely used in the creation of an integral part of women's wardrobe – handbags. And you can say it fits perfectly into this area of application, and such bags are widely known throughout the world.
Lamps – it would seem, how ikat can be applied in lamps, however, it is applicable almost everywhere and this case is very special. Ikat fabric in the form of a circle gently enveloping the lamp is a rather bold and unusual application. For a moment, imagine how these lamps will burn in the light, brightly revealing the beauty of the ikat!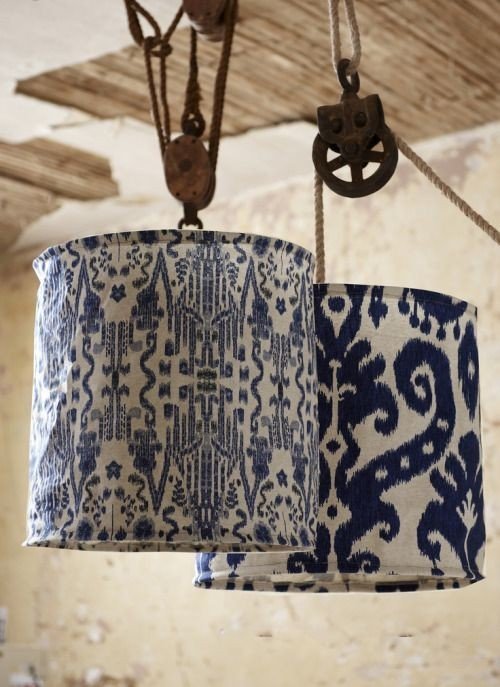 Our eastern fabric is also used in floor lamps. Here Ikat looks very modern and at the same time combines well with the pillows nearby.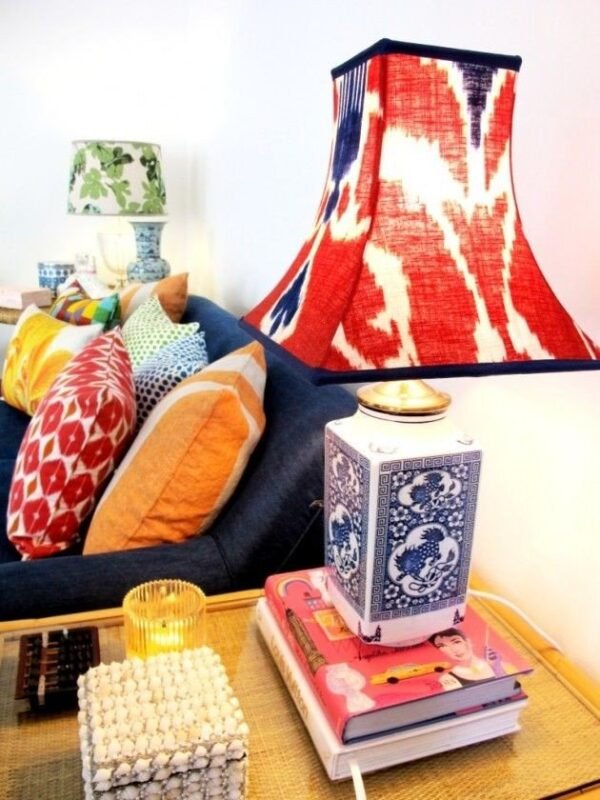 Table runner is not the last use of ikat. In modern cafes and restaurants of Eastern countries, it is very widely known for its originality and refinement.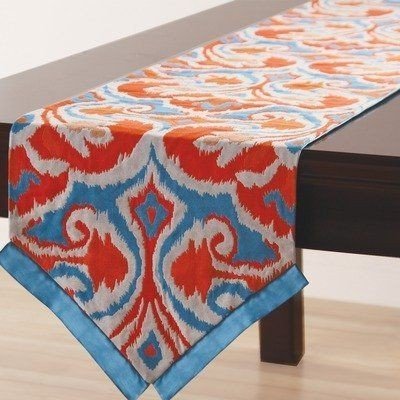 The gorgeous patterns and vibrant colors of woven ikat carpets can remind you of eastern warmth and hospitality for a very long time.
National oriental dishes – teapots, pialas and plates can also be decorated in ikat style. Such dishes will decorate your holiday table, giving a highlight and originality.
Ikat is perfect in the form of a tablecloth for a table or just a blanket.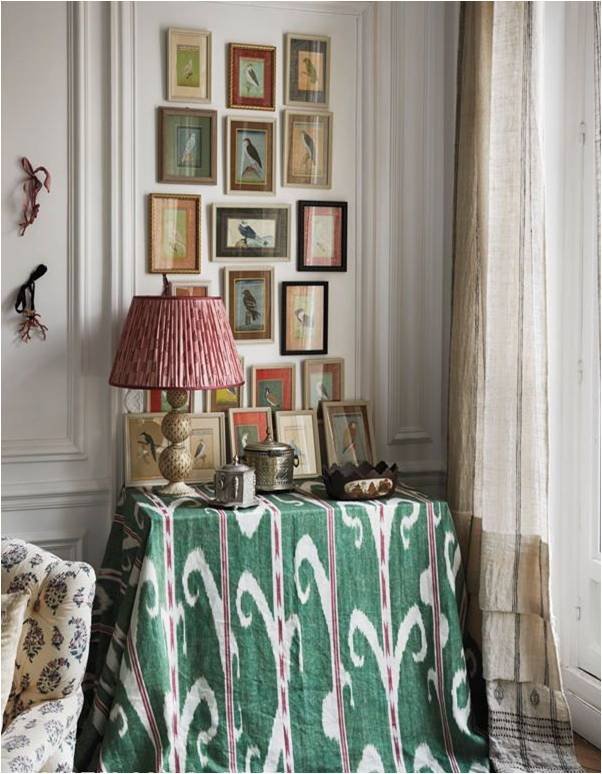 Here you can see the ottoman on the legs, upholstery of which is made of ikat fabric. In addition, you can find ikat on ottoman upholstery without legs and puffs.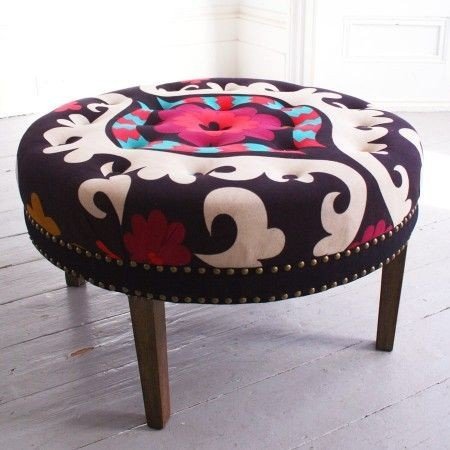 It's impossible to imagine uzbek house without the traditional eastern suzani, where you can find a variety of ikat patterns and a combination of marvelous colors. Suzani can fit perfectly as a wall panel, which can be combined with a tablecloth or other household utensils.
And in the end I would like to mention the widely known use of ikat in our time – this is wallpaper. Ikat wallpapers are very gorgeous and their beauty cannot be compared with anything. You can only choose the curtains in color combined with them, and your home will find tenderness and beauty.