Fabrics made using the ikat technique left their mark on the history of various nations. Since old times they were produced in China and Japan, India and Thailand, Mexico and Brazil, on the islands of Indonesia and in Central Asia. Nowadays, the ikat motif is extremely popular – it is actively used by manufacturers of textiles, wallpaper, interior designers and fashion designers. In addition to traditional types of textiles, numerous simplified interpretations have appeared – prints on cotton and silk imitating this complex technique, embroidery with colored threads on a plain or colored background.
Bright and colorful ikat fabrics today are considered a versatile material. The motives and the ikat fabrics themselves are used today by professionals in fashion industry and interior designers. Gradually, ethnic fabrics conquer the world. Many designers, whose interiors belong to different stylistic directions, successfully use elements of the ikat ornament. From the end of the 20th century, world-famous couturiers paid close attention to ikat: Gucci, Oscar de la Renta, Dries van Noten. At this moment, the ornament from the category of national moved to the elite and became a fashion trend for clothing and interior.
Ikat in the interior: the magic of the modern trend
If before ikat was found only on fabrics, now it has moved to wallpaper, dishes, ceramics and furniture upholstery. Ikat is applicable to all surfaces that can be printed on. It has become much more accessible due to the means of printing on fabric, paper and ceramics. Due to the high cost and impracticality of natural ikat, they invented an artificial one.
The necessary patterns in the desired color scheme can be put by using the method of printing on the basis like cotton, linen or other mixed fabric. It turns out an excellent material for bed linen, upholstery, curtains and even carpets, ceramics and wallpaper, created in ikat style.
Ikat on textiles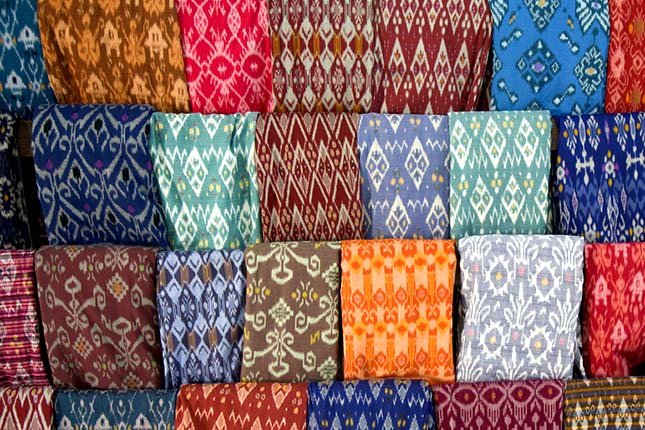 In the bedroom, ikat is used more often than in other rooms. The interiors of the bedrooms are always filled with textiles and should be comfortable, soft and gentle. Not bright, thin pattern on the bed linen is perfect for the light design of the bedroom. Another original solution is a canopy with ikat over the couch. Such a composition will serve as the center of the entire interior of the room. A bright color spot attracts all attention to itself. Such a solution is appropriate for any room, you just need to choose the very "focus" – it can be a bedspread on the bed, window curtains, a sofa or ottomans.
Ikat on furniture upholstery
Ikat will perfectly fit into an eclectic interior, where different styles are combined. If the space of the room, open and visually divided into zones, there is a great opportunity to decorate the tea corner unusually, using ikat-patterned textiles.
This is a great way to give the interior oriental charm and dilute the existing color scheme. The most significant advantage for use as upholstery is that there are practically no spots or dirt visible due to the lack of clear contours in the ornament.
Ikat on the carpet
An ikat patterned floor carpet is a beautiful, original and not aging solution, because ikat is an ornament for all times. In addition, it is very pleasant in the morning to stand on the silk carpet. Ikat bedroom interior gives an extraordinary charm and comfort.
Ikat on the wallpaper
Luxurious wallpapers with ikat ornament will decorate any room, but a bedroom with such decor looks especially stylish and cozy. From a distance it is even difficult to dispel what the print is – either ikat or "modern" flowers. Wallpapers can be embossed glossy or matte. In the first case, the notes of glamor are added, and in the second – on the contrary, a calm, cozy atmosphere is created.
For ikat it is very important to have "allies" in the interior. One item in this style will not always be appropriate, but 2 or 3 – just right: upholstered sofa, chairs, pillows, lampshade lamp, curtains, carpet and other elements. As for the choice of color, ikat is usually represented by two colors: one is basic neutral, and the second is accent contrasting. These are black and white ikat, gray-white, blue-white, green-blue, yellow-lilac and others. The most elegant is the blue-white ikat, regardless of the shade of blue and pattern. And if you want originality, choose multicolored ikats with a complex pattern. In addition, with the help of small objects you can add tiny and bright elements of ethnic style to the interior. Table lamp with a shade of dense linen fabric with ikat pattern is just what you need. In order to avoid an interior being boring, in support of it you can throw 1 or 2 decorative pillows from a patterned fabric onto a sofa, armchair or bed.
The aromas of the east and the notes of ethnics, in a subtle way, carries the presence of ikat fabric in any interior.
This is such an oriental element in the interior, which animates, paints and creates a joyful mood. Do not be afraid to apply ikat in the decor – this is an easy way to refresh your interior, add bright colors, bring a reminder of warm countries.