The traditional oriental ornament ikat today is at the height of fashion. The production of silk fabric with a pattern reminiscent of a rainbow reflection that trembles in a ripple of water begins with silkworm caterpillars. In the spring, these insects are woven into cocoons, and after a few days, these cocoons are removed and boiled in boiling water. At the same time, the caterpillars die, and their cocoons turn into skeins of the finest silk threads. These skeins are woven by hand, then the threads are dyed in different colors and woven according to special markings on the cotton base. The result is silk fabrics with an amazing ornament called ikat.
In the USSR, ikat was named khan-atlas. It was produced in Central Asia. The largest weaving factory in which this ornament was made was the enterprise of the city of Margilan. Silks with similar patterns were woven also in Turkmenistan, Tajikistan, Japan, China, India, Thailand, Indonesia, Mexico and Brazil.
For example, only a few family dynasties were engaged in the production of famous Indonesian ikat, in which the method and technology were handed down from generation to generation.
The complex pattern of "wild silk" – as ikat was also called in the East – always had some sacral meaning. Every family had to wear ikat silk. It was also a matter of prestige, since such a fabric was always expensive, because the design was made by hand.
This handmade ikat has a distinctive feature by which you can determine its authenticity: it has a white stripe, a leveling pattern, and the drawing itself has fuzzy, blurry outlines.
Recently, Eastern exoticism has become fashionable, not only in clothing, but also in the interior. Of course, this silk fabric is not used for interior decoration: it is too fragile and expensive. But the ikat pattern fits perfectly on thick fabric, decorative tiles, wallpaper, plaster and other finishing materials. This ornament fits well into the style of eclecticism, ethnicity and fusion.
You can use ikat in the bedroom, living room, office and in the kitchen. It is applied to many strong and dense fabrics. These fabrics are used in decorating the furniture upholstery and covers for it, bedside headboards, and decorative pillowcases are sewn on pillows, curtains, bedspreads.
A tea set with a picture of ikat also looks very original and brings an oriental touch to the kitchen.
Ikat creates an atmosphere of joy in the room and immerses everyone in the room into the culture of the East. Therefore, those who do not want to constantly feel like a hero of Shaherazade's fairy tales, ikat should be used as an accent, in accessories and additions to single-colored objects.
If, with the help of an ikat pattern, walls will be shaped, a pale, neutral print version should be chosen, otherwise the situation in the room will become very tense.
Today, European variations of ikat, which differ from traditional oriental patterns in greater restraint, are very popular. In this print, two-color or one-color rhombuses are used, fuzzy spots with floral patterns. Europeanized Ikat fits into any style of premises, including the classic one.
Another option is for the design of the wall. Here in the style of ikat Chevron pattern is made. The decorative effect is enhanced by an increased scale. Rhythm and tone are supported by a textile pattern. Thanks to the characteristic fuzzy edges of the pattern, it is easy to make such painting of the walls yourself.
If you are cheerful and want to create a bright interior, do not hesitate to use ikat. Take an example from the living room in the next photo. The secret of success here is in repetitive colors (red, green and blue, plus small blotches of yellow) and a white base.
A nontrivial solution is to decorate the back of the chair with an ornament. Armchairs fit into the interior due to the fact that the ornament is repeated on the pillows.
The special value of ikat ornament is the most complicated process in hand weaving with the use of threads of different thickness, which are tied and create a unique and beautiful pattern by dyeing in different colors. Thanks to this technique, the oriental pattern is so appreciated. The cost price of the ikat ornament is very high and for a long time it was available only to the rich and symbolized luxury and wealth.
In creating an interior, the use of a unique and luxurious ikat ornament is huge, it can be seen on curtains, bedding, carpeting, furniture upholstery looks amazing. In creating the interior, a small detail of the ornament adds charm, originality and a special flavor to the interior.
Traditional ikat is the use of three colors of red, yellow and blue. In modern ikat, the ornament uses different colors, and it turns out stunning patterns that fascinate with their appearance.
Ikat being a very durable fabric is ideal for making clothes and all sorts of textiles and upholstery for upholstered furniture. Ikat looks wonderful on dishes, carpets, tablecloths, bedspreads. Ikat ornament in any product never bothers, and things and products from such fabric give the interior a special charm.
Ethnic ikat pattern is used to create an interior in a classic style. Such a pattern, made in blue sky color, turns any room into an elegant comfortable room and is ideal for the design in a classic style. In a more luxurious and rich interior look ikat colors turn hot colors in complex patterns.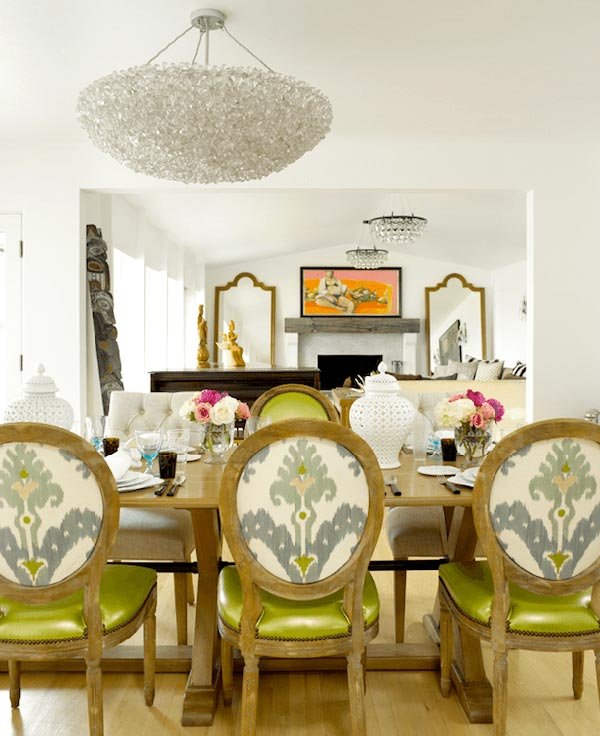 Oriental flavor is a light exotic touch in any created interior. Ikat makes the interior more saturated, attractive and unspeakably rich. From complex unique patterns Ikat cannot be abandoned, they are fascinated by the technique of execution and exotic beauty. All items where ikat is used are in demand for many millennia and popularity for such items of dishes, accessories and textiles does not fall, and from year to year the trend for such things grows.